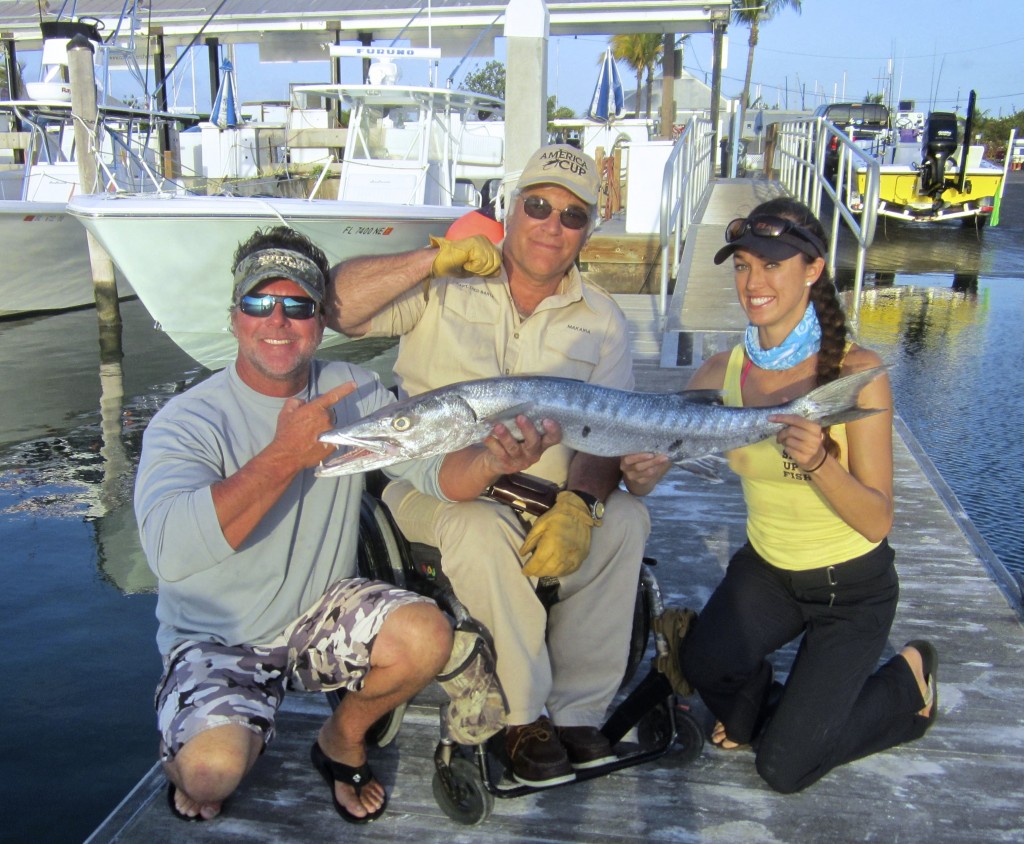 With 250+ trips of guiding clients a year, rarely do we take the time to fish for ourselves. But recently in early February, a one-day gap between 3 consecutive weeks of charters in Key West pulled us out to play. First Mate Deidra had never caught a permit and so we made that the mission of the day. Conditions were not on our side with 30 mph winds. Unable to get to the offshore wrecks, and the inshore flats gutted from the tide buckin' the wind, we decided to come back to the dock. A teary eyed Deidra began to sob – her one day to fish for herself and it was ruined by the wind. Although other species would have been attainable, permit was the target. Defeated, we docked the boat and drug our feet up the ramp.
Suddenly, our sour attitudes straightened right on up when low and behold there in his wheelchair sat Tred Barta!!! This accomplished outdoorsman has made his living in the woods and on the water, much of his life showcased on television – including overcoming a spinal stroke that left him paralyzed from the chest down. This did not stop him from pursuing and enjoying our Great Outdoors!! With numerous hunting and fishing world records, and a NEVER GIVE UP attitude, when you think Outdoors and Inspiration, you think Tred Barta – and here he was sitting on the dock just hoping someone could take him fishing for a few hours! What are the odds!?!?
Luckily, Capt. Bryan (Bear) Holeman had just returned to the dock (in between trips) and helped us load Barta and his wheelchair on board. With a little maneuvering, we were able to make it fit sideways. Most of us just hop on the boat and file in however we want. That's not the case when you are restricted to a wheelchair. But Barta didn't complain one eye-ota. He exudes one of the most "can do" – "don't give up" – "positive attitudes" around. Holding tight to a dock line tied to our bow cleat and braced by First Mate D, we jumped on plane for a 2 mile ride. The normal light chop that doesn't bother us was quite a challenge for Barta with the sideways arrangement, but he gritted his teeth and wouldn't let us slow down.
We pulled up to where we jacked a few cudas for shark bait a day prior. This would be a great opportunity to stick a fish for Barta. Dropping the Minkota as we stopped, all three of us grabbed Sewell 7'6" medium heavy rods rigged with 4000 Shimanos and 20 lb Ultra-Cast, finished off with cuda tubes. Barta chose the orange, and Capt. BO & First Mate D threw chartreuse. On his third cast, Capt. Tred Barta gets smoked by a 48 inch, narly toothed barracuda!! I think we all forget how easy it is to run around the boat and maneuver to land the fish. With Capt. Bo operating the trolling motor, and Barta's obvious skills at landing a fish, the team subdued their quarry in about ten minutes.
Catching barracuda always has intrigued Barta. In fact, one of his favorite ways to catch them is on ultra-light outfits rigged with 4lb test fighting them for 2+ hours at a time- no that's a challenge! We soaked up all of this incredible man's tips, insights, jokes and stories. He told of his days as a Tuna Captain, spending the majority of his year off shore 200 miles killing more than 400 big eye tuna on rod and reel, supposedly more than any recreational angler in history. He went on to attain numerous fishing world records. He vividly recounted the aerial feats of his mako shark catch – 800+ lbs of finned beast!  He emphasized his appreciation for quality products, only endorsing what he believes in.  He spoke of his renowned love of hunting with a longbow, the 100+ animals he has successfully harvested from around the world (including Africa's Dangerous 5 – twice!). He played back the scariest moment when a cape buffalo charged him only to meet his fate at Barta's feet. With numerous hunting records, he also he spoke of his misses – a major reason why folks love Barta.. he is REAL – a true genuine and passionate outdoorsman who let's nothing stop him for enjoying this life.
We gave Barta back to his lovely wife Anni back at the dock, and drove away with huge smiles. Not only did we meet and fish a legend, with him successfully hooking and landing his own barracuda, but we received a greater gift – a renewed appreciation for the times ya strike out in the woods and the water. THIS is what keeps ya coming back in pursuit of victory. Permit – we will see you next time. Thanks Capt. Tred Barta!!!