<<((()))><  Landing a 13 1/2 ft massive hammerhead shark, and satellite tagging her for research, was not what our clients from Missouri, Patrick and Laura Murphy, expected when they stepped aboard the boat Friday morning with Tenacity Guide Service!  <<((()))>><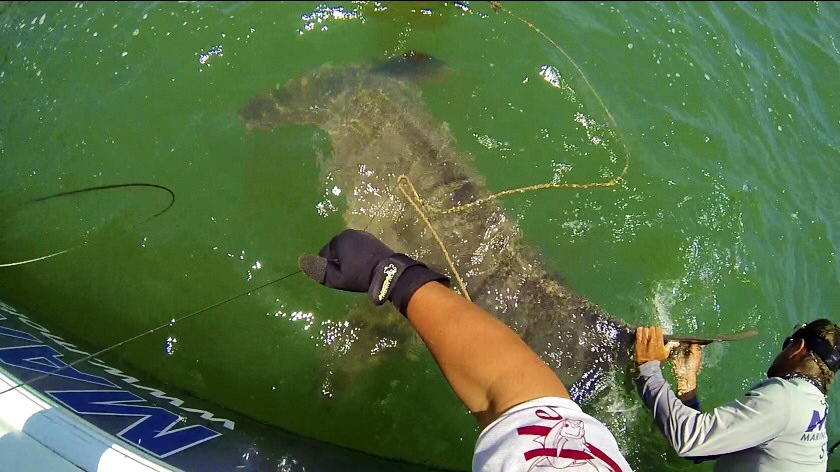 It was May 23rd, 2014, and the morning couldn't have began any better. The weather was gorgeous and water clarity was perfect for stickin' a few rays with our Athen's Harpoons for shark bait. A live well full of baby blue and pass crabs and Team Tenacity was equipped for both shark and tarpon fishing. With an incoming tide, we hit The Hill of Boca Grande and quickly came upon several pods of tarpon. It didn't take 5 minutes before the first big shadow cut through the surrounding charter boats. Some of the other guides were desperately trying to land their clients a tarpon without it being torn to shreds. Last year, sharks were thicker than ever, and this year might even trump that. Not only do sharks hone in on a hooked up tarpon and often prove an imminent silver death, but they affect the pods where they are less likely to eat.
Being a win-win situation for the tarpon anglers and our clients seeking sharks, we pitched a ray out the back at one of the many big shadows cutting through the water. Suddenly, the first one honed in on the bait, and it was HOTTT! Pushing a wake off its dorsal like a tsunami, this bull shark chowed down with full force! (see video of eat) FISH ONNNN!!! We handed off the rod to Laura Murphy who persisted almost 1 hour before boating her big, beautiful bull shark. It was a HUGE accomplishment!!!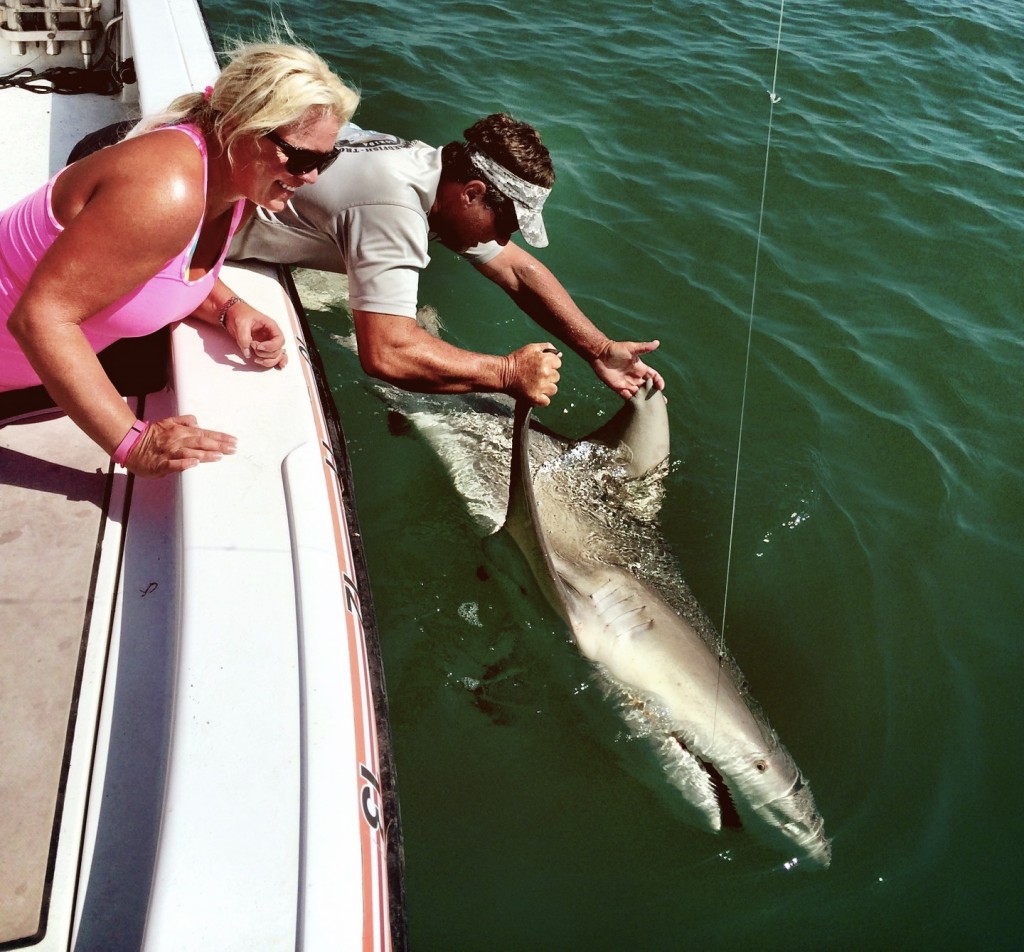 Ecstatic with having such a great start, we went right back over to the pods of tarpon and picked off yet another bull shark! Right after it ate, Capt. Jamie Goodwin hollered over to us "Hammerhead!!! Bo! Here he comes, one of the black ones!".. Luckily we had our Sewell Custom Rod made especially for targeting hammerhead sharks along with the Canyon EX-30 Reel. It was obvious by this massive shark's body language that it was ready for some action! Zig-zagging in the eloquent manner a hammerhead shark does, this beast came up to our ray and circled a few times before deciding to eat- MUCH different from the bull shark! (see the hammerhead eat)
Figuring we would upgrade, we handed off the bull shark, who was peeling off line, to Capt. Jamie's client and away we went with the massive hammerhead shark! Patrick Murphy was in the hot seat, cranking away while we put the boat in gear to catch up some line. The intensity and power that this fish had in it was no match for a single person (in any duration less than several hours), so Capt Bo jumped in and fought, and then First Mate D, and the rotation began. At one point, both Laura and First Mate D were heaving and hoeing in unison!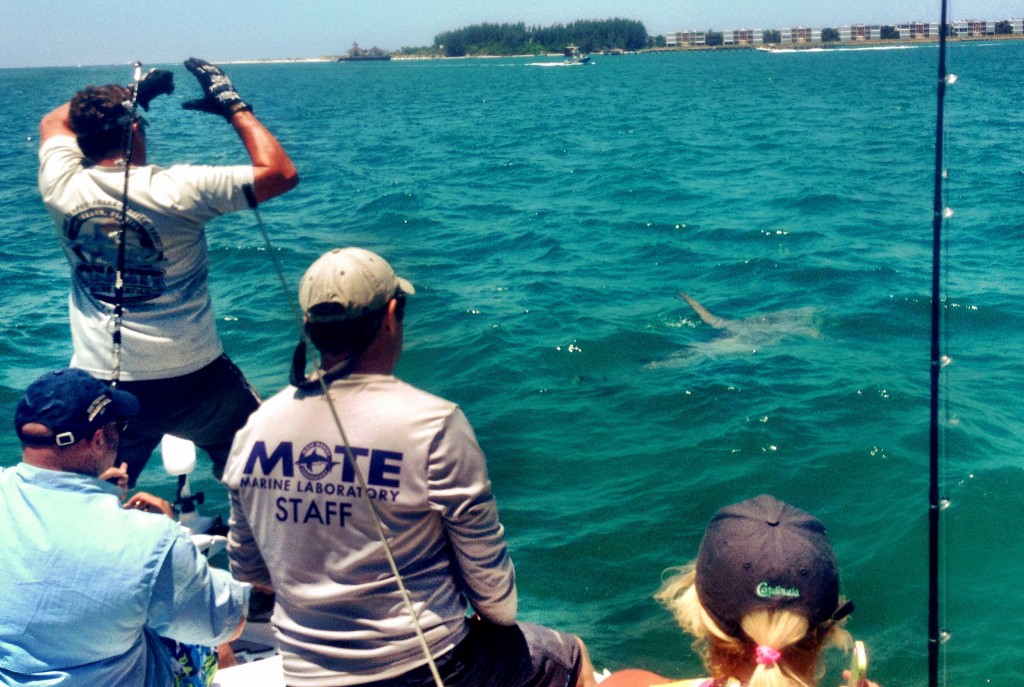 Having tagged sharks with MOTE Marine in the past, their Associate Vice President, Dr. Bob Hueter, just so happened to touch base with us that morning so we knew they were out on their research vessel. Hooking up on a stud like we did, we immediately called them to let them know we hooked a giant in hopes of providing an opportunity where instrumental research could profit if we could boat this fish! They showed up with their crew of scientists and watched the battle unveil. It was truly impressive that this fish could drag all 4 of us and the boat at 2.5 mph into the tide! About 1 hour into the fight, Senior Biologist, Jack Morris, hopped on board with a buoy we could clip to the leader once we got the shark close enough. He unknowingly also signed up for the tag-team efforts on the rod! 1 hour and 45 minutes later (after lots of sweat and grunting, 4 people on the rod, and Capt Bo's full body handlining), the massive hammerhead shark surfaced in the middle of Boca Grande Pass. The crew of MOTE Marine scientists wasted no time gathering their crucial data while boatloads of people joined the audience. At one point, there was nearly 20 boats watching the action!
Marine Specimen Collector, Dean Dougherty, satellite tagged the massive hammerhead shark and asked what we would like to name her! That's right – what a privilege! The consensus was "DBO MURPHY" after the Captain n' Mate, and last name of the clients. The final measurement was 13 1/2 feet long and estimated 1,000 pounds! With all data collected, it was time to send this gorgeous, mature hammerhead shark back to her sea. A huge applause filled the salty air and smiles abound, we felt our adrenaline release us back to a state of utter contentment at the day's accomplishments.
It was time for some food and drinks before parting ways on North Captiva Island. We all knew we would be sore as heck the next day- and we were!!! The memories will last a lifetime 🙂 THANK YOU PATRICK AND LAURA MURPHY!