Salt Life introduces its new line of ALL NATURAL, reef safe, biodegradable Skincare.
We just received our package in the mail ——————>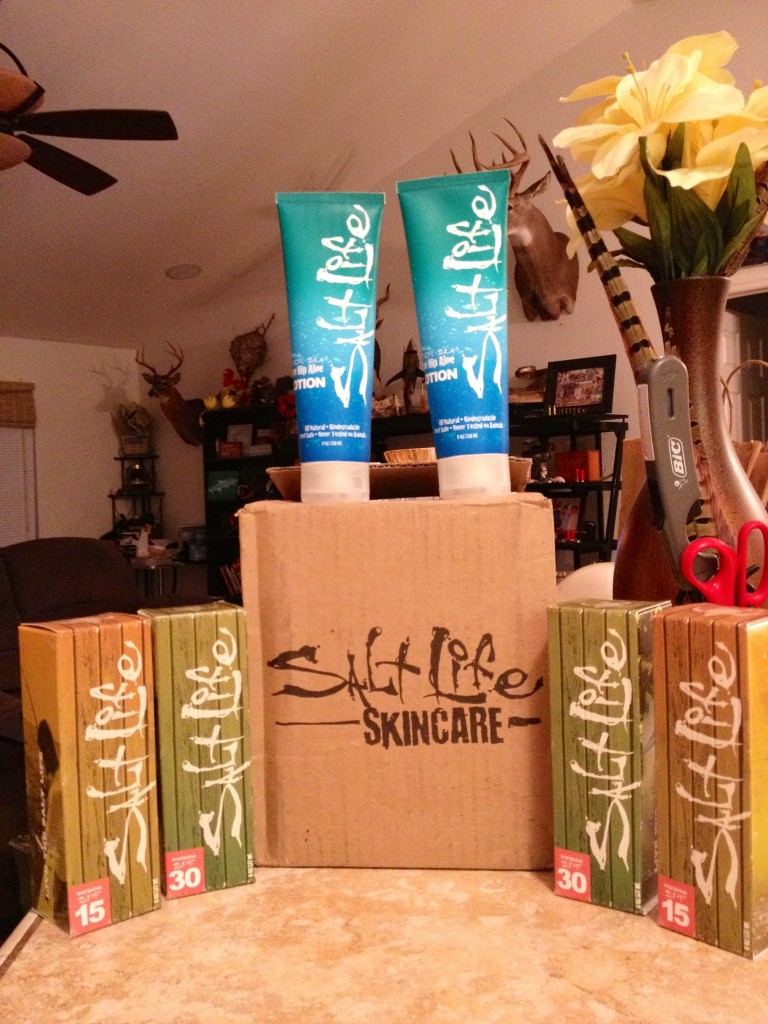 VIDEO OVERVIEW
Being on the water 250+ days a year, we use A LOT of sunscreen. We are VERY excited about this new line, ESPECIALLY being "NATURAL". When it comes to sunscreen, there is Natural (aka Physical) and Chemical. Natural 'blocks' the UVA / UVB rays whereas Chemical ABSORBS them. Sounds great BUT.. while the chemicals are absorbing the rays, your skin (the largest organ in your body) is absorbing the chemicals. Though the jury is still out, studies are showing these chemical agents (such as avobenzone, oxybenzone, octisalate, diethylexyl, triethanolamine and a host of other unpronounceable ingredients) are implicated in free radical production ultimately leading to skin damage and irritation, increase the risk of cancer as well as accelerating the aging process. Another side effect is hormone disruption – specifically an increase in estrogen levels.
Capt Bo and First Mate D are passionate about living a healthy life, indeed, the SALT LIFE. We advocate the natural ingredients (MINERALS and HERBS / OILS) found in the new Salt Life SUNSCREEN:
•ACTIVE INGREDIENTS: Titanium Dioxide and Zinc Oxide.
•INGREDIENTS: Aloe Vera Barbadensis Leaf Extract, Fractionated Coconut Oil, Cetearyl (and) Sorbitan Olivate, Organic Rosa Canina (Rose Hips) Fruit Oil, Butyrospermum Parkii (Shea) Butter, Squalane, Linoleic Acid (and) Linolenic Acid, Vaccinium Macrocarpon (Cranberry) Seed Oil, Punica Granatum (Pomegranate) Fruit Oil, Passiflora Edulis Seed (Passion Fruit) Oil, Green Tea Extract, Camellia Sinensis Leaf Extract, Vitamin E Tocopherol, HydroxyEthyl Cellosize, Caprylic Acid (and) Lauric Acid (and) Propanediol (and Potassium Sorbate) and Natural Fragrance.