'I Was a Human Chum Line'
Johnson wades in with pockets full of fish for 2013 Madfin Shark Series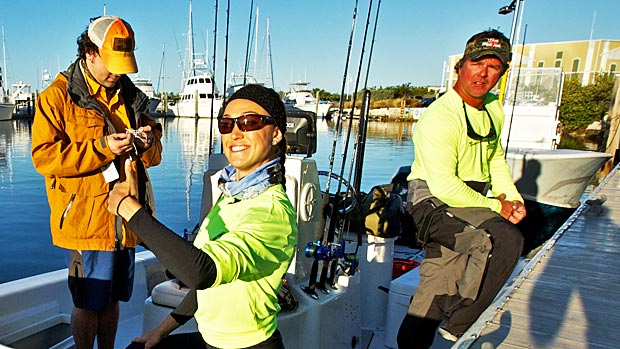 Bo Johnson and girlfriend Deidra Bridger try to repeat as Madfin champions.
(Courtesy Madfin Shark Series)
By: Steve Rogers, OutdoorChannel.com
How a woman from the Midwest and a Florida thrill-seeker wound up in a relationship together – much less operating a charter fishing service in the Gulf of Mexico — is anyone's guess.
But the relationship between Bo Johnson and Deidra Bridger works both on the water and off. (SEE The D*BO Show)
That's one of the primary reasons they were favored to repeat as champions of the seventh annual Madfin Shark Series held in the Florida Keys in March. The series will air on Outdoor Channel throughout April and May at noon on Tuesdays, 8:30 a.m. on Friday and 3:30 p.m. on Sundays.
Johnson and Bridger, who operate Tenacity Guide Service primarily near Fort Myers, Fla., agree they work well as a team – both in their job and in competition.
Not that there aren't times of choppy conditions.
"We're normal. We fight," Bridger, 29, said on a joint phone call with her boyfriend recently. "We both have pretty strong personalities, but we are able to find a happy medium."
"Nah, to heck with that," Johnson, 45, chimed in. "She's just learning that I'm right all the time and to do what I tell her."
Good-natured ribbing and quibbling dominated the conversation, but during the Madfin Shark Series, the joking was left on the dock.
"Our motto for our guide service is, 'Shut Up and Fish,'" Bridger said. "We tell that to each other a lot."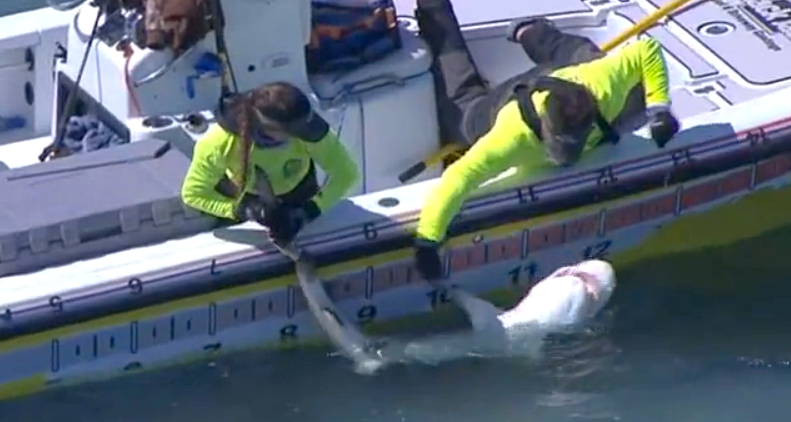 The Madfin Shark Series is the only nationally televised catch and release shark competition in the world. After a one-year departure, the series returned to Key West, Fla., and the clear, shark-rich waters of the Florida Keys. The broadcast is hosted by famed outdoor star Tommy Sanders, and British actor Butler Yates serves as the dramatic voiceover.
A new wrinkle for this year's competition is each team is comprised of a married or dating couple – there are two of each. Also, the rules now require both teammates must participate – the men and women must alternate on each catch or no points are awarded. That includes removing the hook.
"Going into the tournament, we felt like whoever made the fewest mistakes would have the best shot at winning," Johnson said. "On the first day, I missed a couple bites and I let a nice nurse shark get off the line. I got a couple lemon sharks, so I kind of broke even but you never get those points back that you lose."
Johnson has been operating his guide service for more than 15 years, primarily in the Pine Island Sound area to the west of Fort Myers, Fla. Before that, he tried his hand as a professional redfish and bass angler. He also entertained tourists with airboat rides, a venomous snake handling show and by wrestling alligators.
That type of daredevil demeanor proved to come in handy early in the Madfin Shark Series.
Johnson and Bridger spotted sharks near the bank in a cove. The water was plenty deep where the sharks were gathered, but to enter the area, they would have had to try a risky pass through a shallow area. Instead, Johnson grabbed a pole, jumped over the side of the boat and waded in toward the sharks.
"I had stuffed my pockets with pieces of fish and was squeezing my pockets (to attract the sharks)," he said. "I was a human chum line."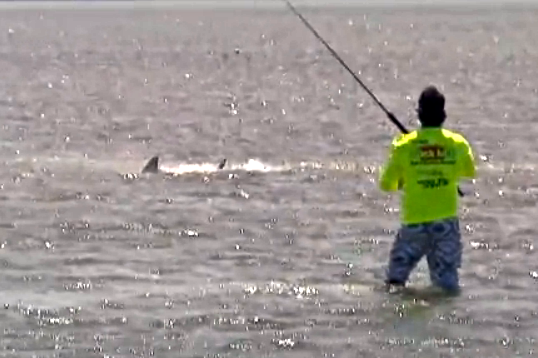 While their work will see them fishing for many saltwater species in their area – tarpon, grouper, snapper, redfish, permit, cobia – the sharks have some special meaning, especially for Bridger, who grew up in Kansas City, Mo., catching bass and crappie.
"The first time we went fishing together, not long after we met, I caught my first shark," Bridger said, referring to a 100-pound black tip.
Bridger works as the First Mate (Johnson is the Captain) for their service, running the boat, rigging rods, catching bait, baiting hooks, etc. She also handles all of the social media for the business and various competitions and television work she and Johnson take part in.
"She's pretty great, honestly," Johnson said. "She hunts. She fishes. Not long ago, I had had a long day on the boat, working and fishing … just one of those long days. I pull up, and she's got a cocktail in one hand and a scrub brush in the other. She gives to me a kiss and goes to work scrubbing down the boat. How can you beat that?"
For more information, go to the Madfin Shark Series home page
*** Bo and Deidra went on to defend their title and brought home both trophies as the 2103 Mad Fin Shark Series Repeat Champs!!!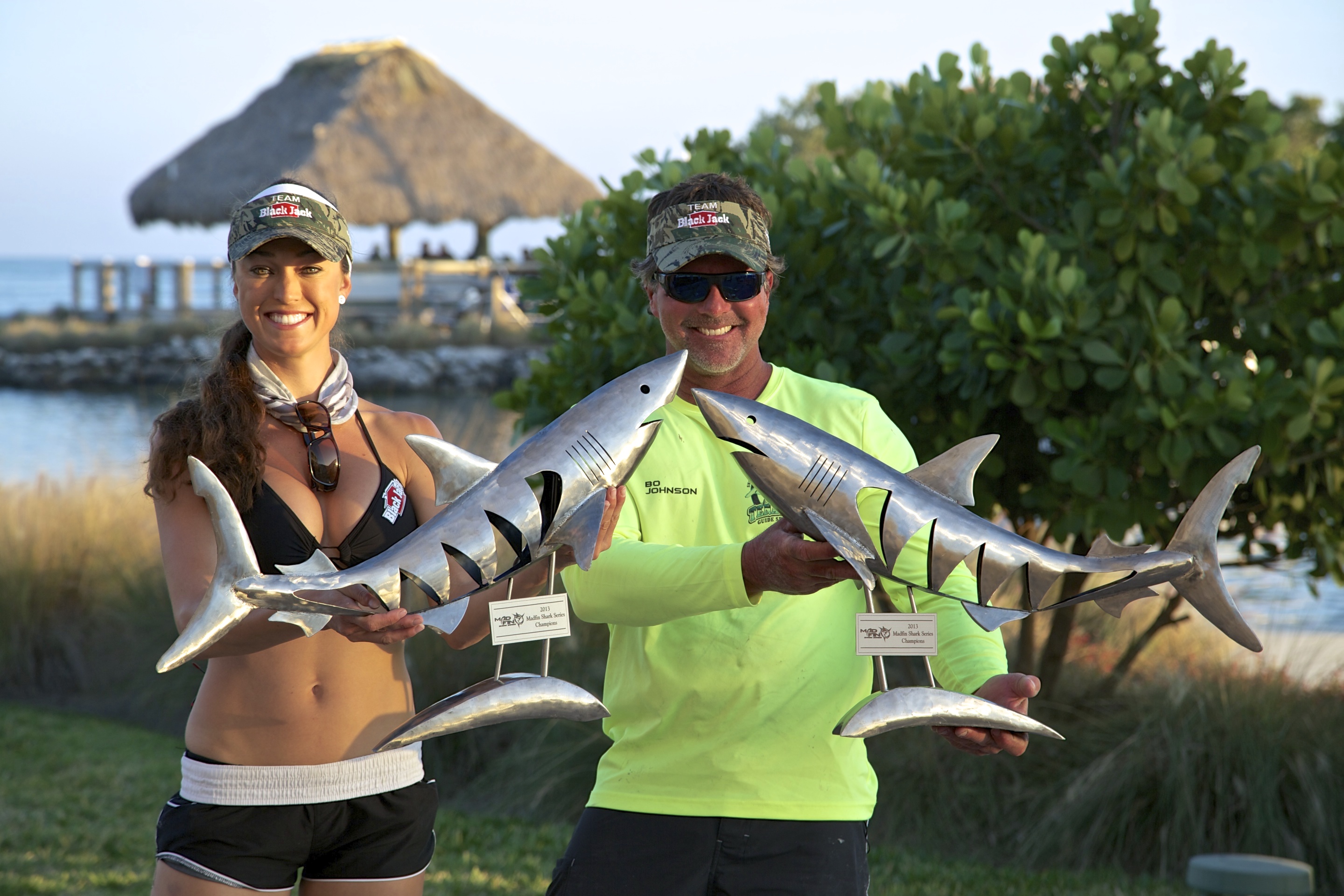 See more Team D*BO Tournament Action