Captain Bo Johnson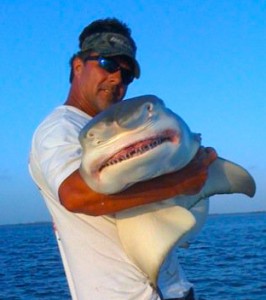 Capt. Bo Johnson is a native of Southwest Florida and has been in touch with the species he hunts for his whole life. He is an expert in stalking fish on the shallow flats of Pine Island, Sanibel Island, Captiva Island, Boca Grande and Charlotte Harbor. His days on the water every year total in the hundreds. He is a decorated tournament angler, been featured in multiple TV shows & Magazine Publications, serves as Pro-Staff for many industry brands, and donates his time to Philanthropic activities
As a charter Captain, he utilizes both live and artificial baits depending on the strategy at hand. There is no greater thrill than sneaking up on a tailing redfish and presenting the perfect cast and " fish on "! He also fishes the same surrounding areas for the elusive snook; this fish is the ultimate tackle tester. An excellent fighter, he'll test your skill as angler and fight like a largemouth Bass on steroids. Sea trout also prowl these same lush grass flats, ready and willing to slam any thing that makes a commotion on the top of the water, be it plug or fly. Not far offshore, Permit, Cobia, and tripletail [buoy fish] inhabit the trap lines. These fish are all excellent adversaries on either light tackle or a fly rod. And we can't forget the Silver King [The Tarpon]. These fish abound here in the early spring to mid- summer. The only thing more exciting than stalking fish on the flats is stalking fish that are 7 plus feet in length and weighing up to 225 lbs.
Capt. Bo fishes these monsters on the beaches, in the passes, and on the flats. Here on the flats these fish can be found in less than 2 feet of water. Laid up in potholes as they float like silvery logs, motionless until the fly reaches his peripheral vision. He turns.. he's on it.. strip, strip, strip. Before you know it, he's into the backing and jumping like a lightning bolt from below! This is the ultimate angling rush! These fish put on one of the best aerial shows that there is to be seen.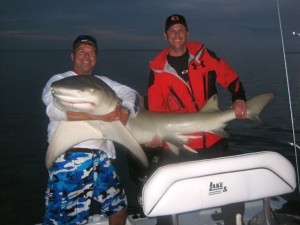 Captain Bo is also quickly developing a reputation as one of the Nation's Top Shark Fishing guides, catching several species of Shark on light tackle in South Florida. After dramatic success in the Madfin Series on TV, Captain Bo has been guiding such celebrities as Kevin VanDam to a fantastic experience on the end ot the fishing rod. Captain Bo recently joined KVD on Mark Zona's Awesome Fishing Show for a Key West sharkin' extravaganza.
From leapin' tarpon,, to backcountry trophy fishin', to chompin' sharks, Captain Bo says C'Monnn! You too can have that thrill of a lifetime. Get up with him on Facebook = Bo Johnson.
First Mate Deidra Bridger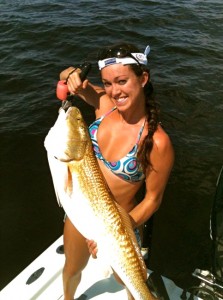 Miss Deidra, is an All-American Great Outdoors enthusiast, role model, and spokes model for the Outdoor Industry. She films TV shows, represents numerous brands and organizations at various trade shows and events, through their On-Line, Video, and printed promotional marketing material; and volunteers her time for good causes in the industry. Check her out Deidra Outdoors.
Deidra's career ambitions are a product of her roots. She grew up freshwater fishing in the great SHOW ME state of Missouri. Her backwoods roots found her long-polin' for crappie, throwin' top water for white bass, and flippin' jigs for catfish. After relocating to the Sunshine state, this solar powered soul's fishin' game became reinvigorated by the world of saltwater fishing. Deidra quickly began to enjoy sight fishing the flats and venturing off shore. It wasn't long before she began tackling Sea trout, Redfish, Snook, Tarpon, Permit, Jacks, Bonita, Mackerel, Snapper, Goliath Grouper and Shark!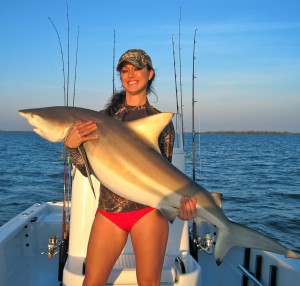 And speaking of Shark, that is precisely how Captain Bo found his 1st mate! The 1st time they ever went fishin', Captain Bo chummed with the blue fish and jacks they caught earlier and in no time she was playing tug-o-war with a 100 lb black tip!
Deidra came on board Tenacity Guide Service as First Mate to assist in running the boat, riggin' rods, catchin' bait, and baiting hooks, and ensuring all the clients have the most enjoyable experience possible. If interested, Deidra captures the clients' experience on camera and turns it into an edited video and still photo keepsake that can be treasured and shared with friends and family. She also manages the Tenacity Guide Service Facebook Page and YouTube Channel.