*** Please visit our TripAdvisor for more testimonials ***
~ GREAT BOAT, EXCELLENT GUIDE & 1ST MATE, FANTASTIC FISHING ~
If you want to have a great time and catch fish, I highly recommend Captain Bo Johnson & First Mate Deidra. My buddies and I have fished together for a long time and in a lot of different places and we try to get down to Florida in March or April to relieve the bad case of cabin fever that sets in by that time up here in New England.  Captain Bo offered the answers to our winter-blues prayers- great boat, excellent guide and first mate, and fantastic fishing. Fishing with Captain Bo was like we were fishing with another buddy. He accommodated all our fishing style requests (fly, bait and artificial) and he put us on the fish. This was by far was the best fishing experience we have had in Florida. Captain Bo and First Mate Deidra are true professionals and worked hard to give us an excellent Florida fishing experience.
~ Kevin Sheehan

"Thank you both for everything. We really enjoyed spending time with you. From my family to everyone who fished with you, they thoroughly enjoyed themselves. You are a great team and an excellent fisherman-woman. Nothing but positives. You have a gift of making the slowest times fun. Stay in touch and thank you."
~ Chad Meier (Gardner-Gibson)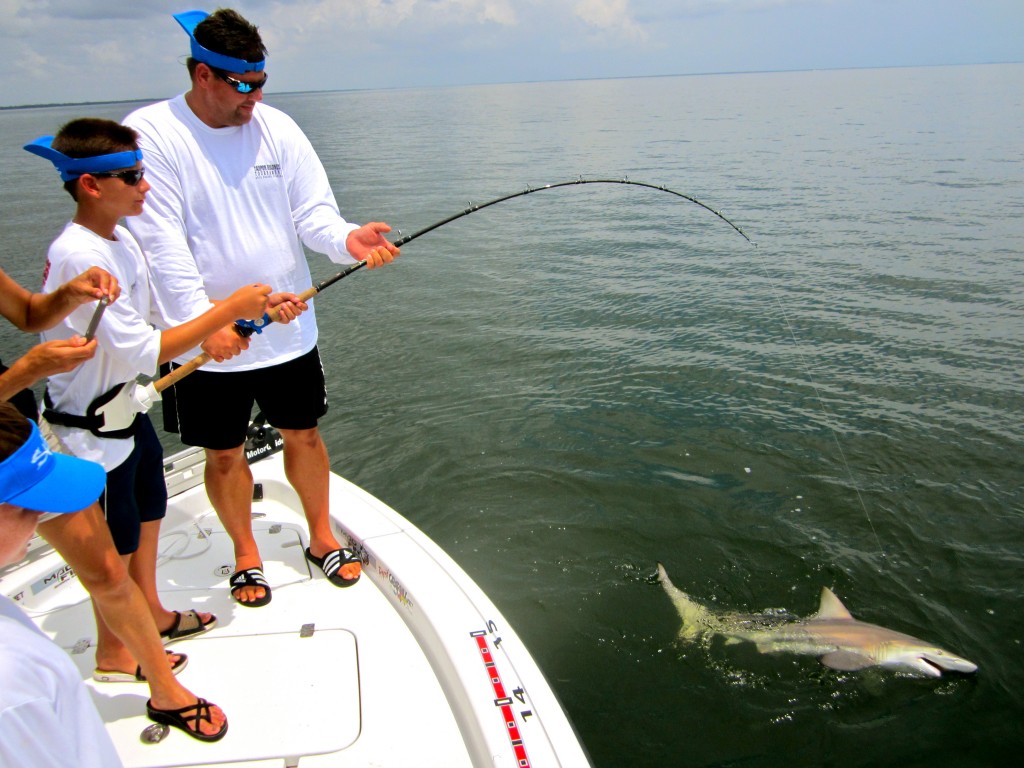 ~ THE WORLD'S FIRST BLIND MARKSMAN, Carey McWilliams, SW FL FISHIN' EXTRAVAGANZA ~
Ever since I was little, the sea has always meant a world of discovery to me. I have been deep-sea fishing before, catching barracuda, but always wanted to catch a shark. I hooked one off Hawaii with a crew that could care less about my dreams. Well, needless to say, that one got away, so when I came to Team Tenacity, I didn't know what to expect. I could tell right away that they were real go-getters. Being blind, most people have an overwhelming sense of apprehension, sanitizing everything to death. And yet, through these guys, I felt a part of it all. They really pulled out all the stops to make my experience one for the books, hauling aboard nothing less than six monsters in a two-day period. Now being from the Midwest, where a ten-pounder is a trophy, which was amazing. These guys will go that extra mile to insure that you are given the best opportunity to catch that dream fish of a lifetime; one that will spark stories for years to come.
~ Carey McWilliams  www.careymcwilliams.com
*Read the full story as published in the Fall 2011 Safari Club International Alabama Chapter newsletter – HERE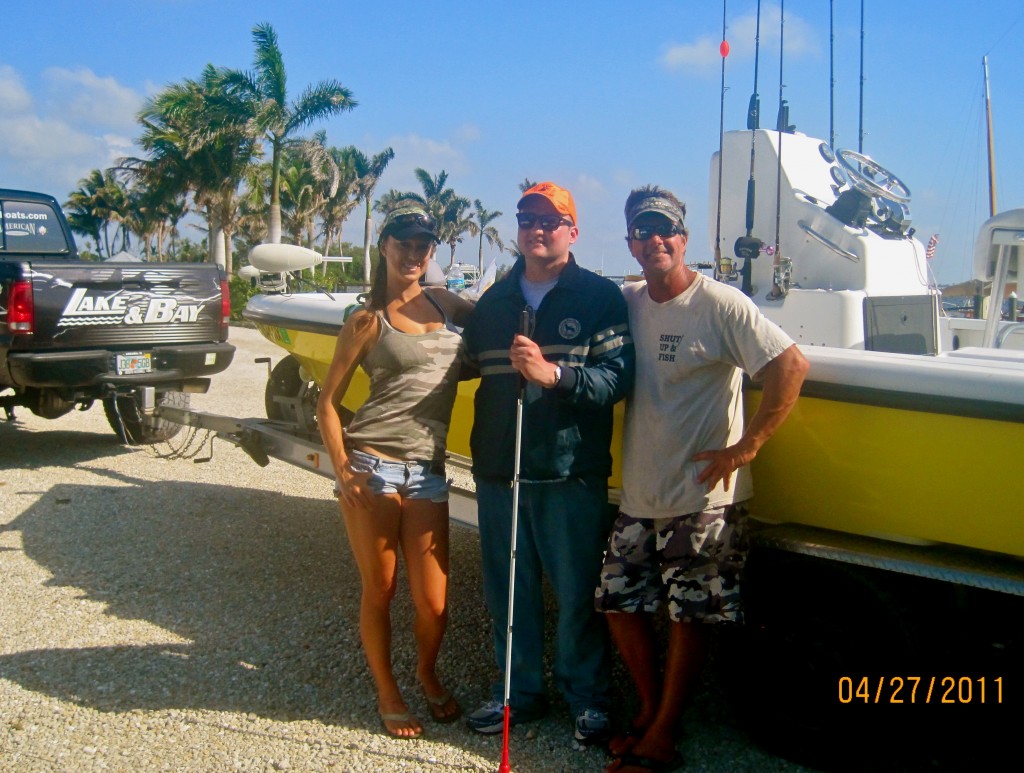 ~ FATHER / SON DUO FROM KANSAS DUO EXPERIENCES THE BEST OF KEY WEST IN 3 DAYS!!! ~
I don't know what to say besides WOW. This was an incredible vacation, from the weather to the fishing. Neither my father nor I had any idea what to expect but Bo kept ensuring me that it was going to be a good fishing trip. Well Bo was right, it was and some. We went there to catch shark bait and sharks. And we ended up catching more, much more than that. And for a bonus we got to do some tarpon fishing. We ended up hooking four of them, but we were 0-4. But it didn't even matter cause I didn't even expect that. We got to see some monsters some real monsters though. My father and I have been on a number of fishing trips and this one by far surpasses any thing that we have done yet.
I cannot say enough good things about Bo and Deidra. They were a great team, they work very well with each other, and Bo has some of the best equipment and fishing tackle. Trust me I should know I had the privilege of breaking one of his rods. Boy oh boy was I nervous until I heard him laughing at me. That's Bo for you though. As long as his clients are happy and having a great time then nothing else matters, as he would put it (Just shut up and fish.) And trust me, Both my father and I had a great and wonderful time. Besides the beautiful weather and fishing, the best thing about the whole trip was getting to meet you guys. You guys were great and it was a privilege meeting you guys and becoming friends with you. I just hope that you guys had as much fun as we did. And by watching you Bo, I think you did. You are very intense guide and I can tell you love your job. Don't you ever lose that!
Once again Bo and Deidra THANK YOU guys for such a great experience. And I cannot wait for the next time. See you guys then.
Thanks,
~ Tyson Scott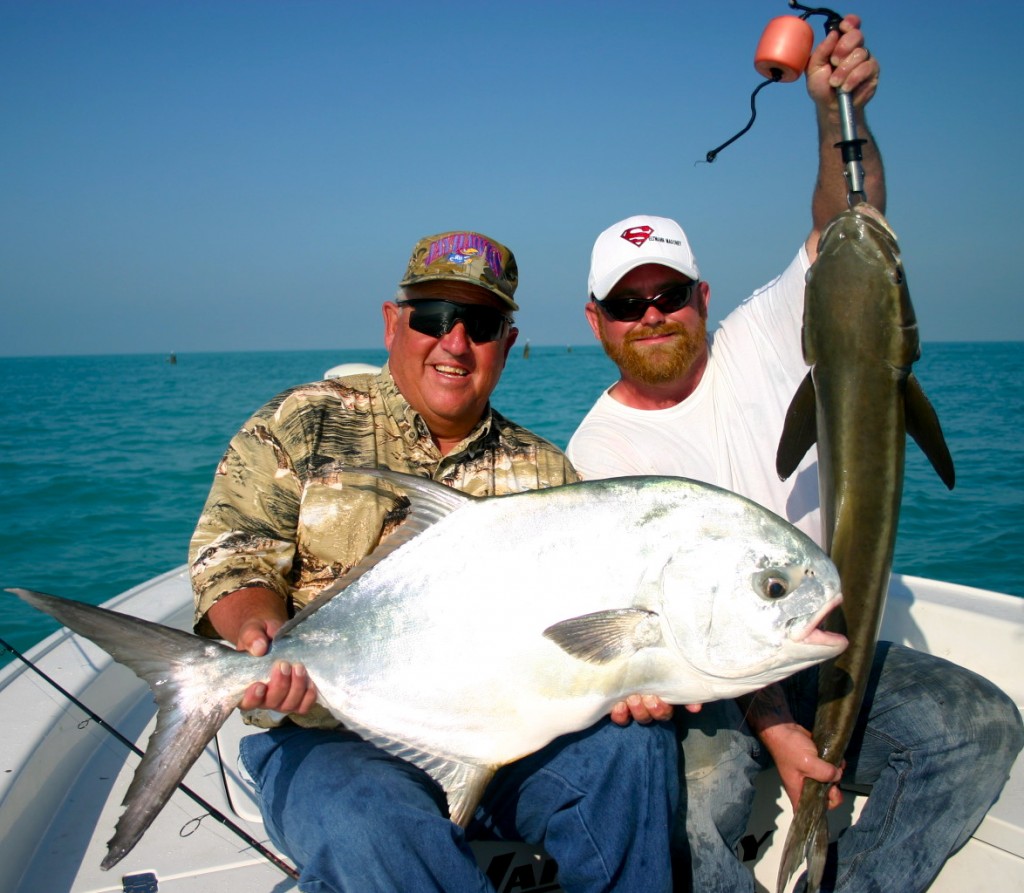 ~CHICAGO COPS GO SHARKIN' IN SW FLORIDA ~ CAPT. BO SWIMS WITH BULL SHARKS!!~
Our trip went about as good as it could go, 5 sharks in one day! Not little 3 or 4 footers either. All the sharks were what we considered the biggest fish we had ever caught! Exactly what we came for! Capt Bo made sure we got GREAT pictures of our first 7 or 8ft Bull shark on the beach and in the water holding it! (Once in a lifetime type photos right? ) We were all super excited about them including Bo.
That is until I accidentally threw the damn camera overboard! LOST FOREVER! I basically had a meltdown after that. It sucked the wind right out of our trip. I just laid down in the back of the boat defeated and pissed off! Bo walks over and says, "Don't worry about it man, we will get them photos again, I promise".  (Mind you, this is right after he just told us he never got a shark that big to shore before for photos haha) So I was like, "Thanks", but basically just blew him off. As I got up off the deck, I smack my head off the bar on the back of his seat . I yell, "ARE YOU @#$%ING KIDDING ME?!?" Bo just laughs at me..haha
My brother lands his shark and it was about the same size as the last one! We were a bit further from shore so I am thinking, "Nah.. this isn't going to happen". Bo just looks over to me and says, "We got this man". He works his ass off getting that shark to shore. Once we get it there, in about 3ft of water the damn thing comes alive. It starts to thrash and Bo pins the shark to bottom of sand and hangs on for dear life! He calms the shark down and we retook all the same photos again. Hell we even got some that were better. All be it with an I-phone now, but still they turned out great.
Bo swims with the shark out to about ten feet of water. Why? I have no clue why? He releases him and guess what the shark does? Yep you guessed it. The shark turns on him. Now I don't know how fast Michael Phelps can swim, but I am willing to bet money that on that day Capt Bo Johnson would have kicked his ass haha I blinked and Bo was back on the beach huffing and puffing asking us if we saw that! Afterwards Bo says to me, "I told ya I would get you those photos back".
Now we tried to send Bo home early cuz we all caught a monster shark. We said "Job well done man you earned it". Bo said, "Give it a few minutes", so we did, and my dad hooks up with the biggest bull shark of the day – A monster! It wore his old ass out. That fish is the one my dad tells everyone about. He had to earn that fish and he said he impressed himself catching it. That meant a lot to us. We were done and the old man went right into the boat house and knocked out till the next morning. Bo wore his old ass out haha, but to his credit he was back up at 7 am fishing on the dock. He said Bo went by in his boat and shouted, "Hey old timer! I heard you took a nap".
Now the "Old Man" for some reason felt awkward about fishing with Capt. Bo's First Mate, Deidra (Old timers I tell ya.) We politely asked Bo if she could skip this trip. I was worried he might get upset or hold a grudge, but Bo knew I was looking forward to taking some pictures with her so even after we alienated her Bo asked her to meet us at the dock so I could get some photos with her. She happily agreed and couldn't have been nicer to us. The photos are great. Needless to say the one where I am kissing her on the check is entitled "Look what I caught" on my facebook page haha.
Like I said, The best trip we ever had. Bo even stopped by everyday to see if we needed mullet to fish with. On our last night there Bo stopped to chit chat with us after he was done fishing. While we were talking, a bird who was hanging out with all day (I may have named him.. just sayin') our little buddy ate a piece of mullet with our hook in it!! This thing was flipping out. Bo saved the bird too haha. This trip was above and beyond. I am not being a suck up either. The guy actually did all these incredible things.. so ya know I am telling the truth, look through his profile pictures on facebook and you'll see him in the water with the 2nd shark he brought to shore for us haha!
~ Steven Carroll
   *** Please visit our TripAdvisor for more testimonials ***