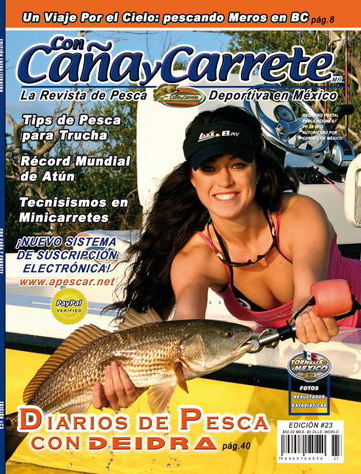 *** As featured in the Apr / May issue of Mexico's top Sport Fishing Magazine = Con Cana y Carrete
By First Mate Deidra with Capt. Bo Johnson
The holiday season treated this outdoors lovin' lady quite well. I wrapped up 2010 and kick started 2011 with a two week hunting spree in the great states of Missouri and South Carolina. A nice mix of upland game (pheasant and quail), waterfowl (ducks and geese), and deer to fuel my nature powered soul. To top it all off, I harvested my first buck! 17 days later, I made my way home to Florida.
Constantly seeking adventure in the great outdoors, I hadn't been home for 12 hours before taking off for another excursion – this time on the water. With fishing charters on the books, and a free afternoon, it was a great opportunity to get on the water and scout for the upcoming week of charters. Captain Bo and I timed it so we could take advantage of the afternoon rising tide. At 2pm, we headed for Pineland Marina, which is located on the east side of Pine Island Sound. The area is surrounded by the renowned fishing destinations: Sanibel, Captiva and Boca Grande, all great vacation spots for avid anglers, weekend warriors, and family get-a-ways.
In route to the marina, we strategized our scouting agenda. We thought about running up the river as the winter months bring huge schools of jack crevalle, tarpon, and snook. However as we pulled through the marina, Captain Bo noticed no boats anywhere near a great spot that has been holding a school of Redfish. The excitement began to build! Captain Bo flipped the rig around and I jumped in the boat with our fishing gear and cameras so we could catch the anticipated action!  We launched the boat and began idling out of the marina. The Pro XS planed out the 22 ft Lake and Bay and in no time, the lush grass flats were revealed.
A bright bluebird sky, crystal clear water, and 70-degree mild temperatures for January made for excellent site casting conditions. The Southwest winds blew at 5 knots and the sun slowly sank in the western sky. Having the wind and sun to our back combined with the tide pushing in perfected a stealthy approach on the weary school of Redfish. With hundreds of lateral lines and double that amount of eyes, this is your best strategy.
After cameras were set up, and rods were rigged, we started our slow meticulous drift across the flat. Captain Bo's go-to search bait of choice was a 5 inch new penny colored Gulp jerk shad by Berkley, rigged with 4/0, 1/8 ounce, Mustad keeper hook. I decided to go with the trusty 3/4 ounce gold spoon. Both of these baits can make long casts to cover lots of water.
Within 10 minutes and not drifting but 50 to 60 yards from the start of our assault, a nice Redfish, about 30 inches, nailed Capt Bo's bait! We were closing in on the school! I quickly and quietly hopped off the bow to stake off the boat with our Power Pole*. The school appeared within 30 feet of the boat as Captain Bo reeled in the huge redfish. We watched as at least another half a dozen fish tried to eat the jerk bait out of the fish's mouth. At this point, there was no question that the fish were both here and hungry! It was going to be a great day.
It wasn't but 2 casts later that one mistakenly chose my gold spoon instead of a baitfish. Over the next hour, we were basically catching fish at will. Every cast, if we didn't hook one, we missed one. At times, 2 or 3 different fish would strike our bait before hooking up. It was so cool to see multiple fish following their hooked brothers and sisters back to the boat, which made for a perfect 'double hookup' scenario! If one of us hooked up, the other just made a precise cast behind the hooked fish to work our baits as close as possible. The fellow fish could not resist! This all happens when the fish are lit up, flared out and ready to chew!
One nice thing about fishing a school of fish is how it can literally turn the entire school and surrounding fish into enraged eating machines. The action turns off almost as fast as it turns on. So take advantage when you have this type of fishing scenario and enjoy every cast whether it ends up with a tight line and screaming drag, or maybe just a boil behind your bait as the fish attempts to inhale it.  For these are the reasons we fish, never knowing what each cast will bring.
Captain Bo and I finished the day with a gorgeous sunset and a live well containing a limit of redfish and spotted sea trout. Making the most of the redfish's surrounding natural habitat and beauty of the fish, we snapped some amazing photos. After the fireball faded into the horizon, it was back to the dock to fillet our dinner – the grill was calling our name!  The wonderful thing about fishing is it not only feeds your soul, but also your belly. Fishing isn't just a sport, but a way of life.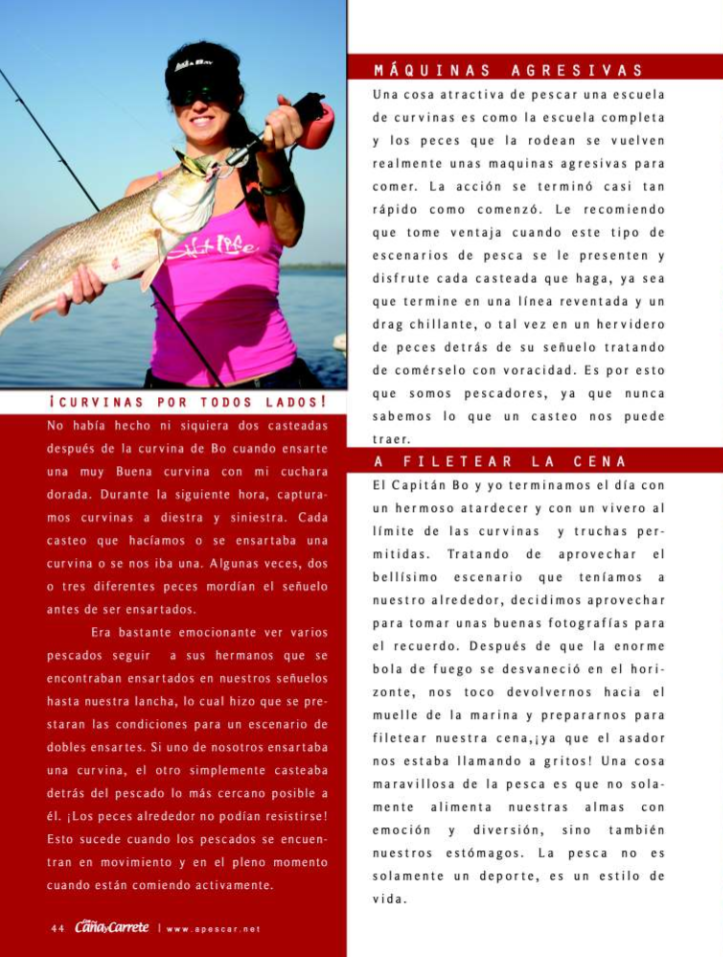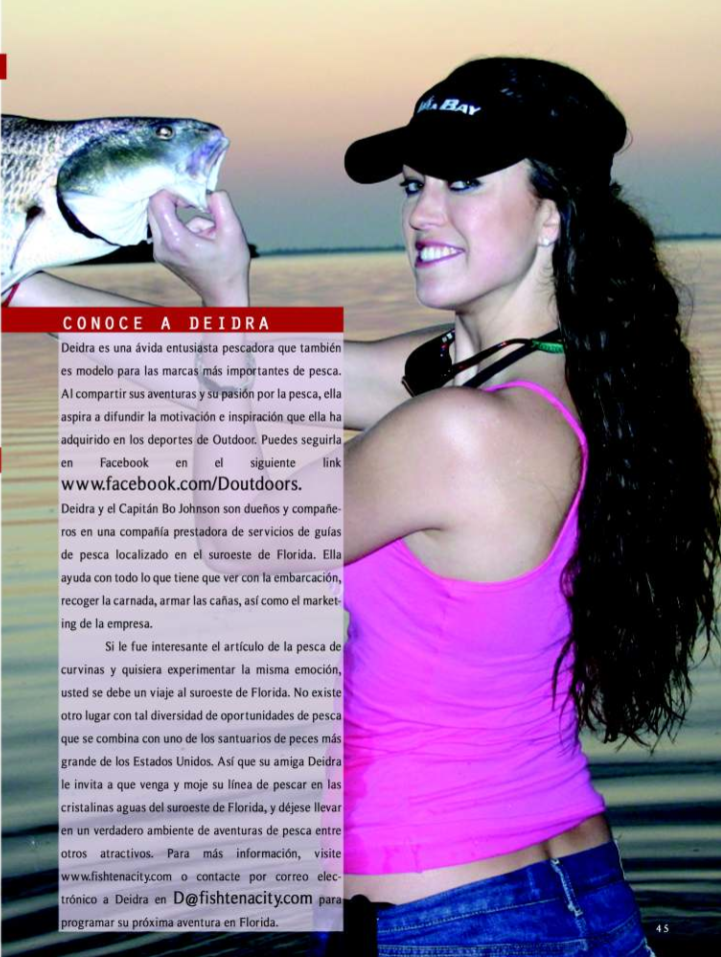 Deidra is an avid outdoors enthusiast and spokesmodel for the industry. By sharing her adventures infused with passion for the woods and the water, she aspires to spread the motivation and inspiration garnered from experiences in the Great Outdoors. Follow her on Facebook www.Facebook.com/Doutdoors.
 Deidra is partners with Capt. Bo Johnson in owning and operating Tenacity Guide Service Trips are available in Southwest Florida and Key West. She helps with everything from running the boat, catching the bait, rigging the rods, to marketing. Clients choose among the following adventures = Sharkin', Goliath Grouper Tug-o-War, The BEST of Key West, Backcountry ~ Fishin' the Flats, Tarpon the Silver King, Backcountry Scenery, and Corporate Retreat at sea.
If you read her article and want to experience the ultimate in sight fishing, you owe it to yourself to take a trip to Southwest Florida and/or Key West. There is no other place where such a diverse amount of angling opportunities could confront you in one of the most beautiful estuaries and islands in the United States. So Deidra invites you to come wet a line in these pristine waters and lose yourself in a true angling adventure fishing everything from the lush grass flats of the backcountry to the offshore wrecks of the wide open sea.
For more information, go to www.FishTenacity.com or Facebook www.Facebook.com/FishTenacity  Email Deidra to book your adventure! Deidra@FishTenacity.com