On November 2, 2012, Quantum Leap Farm will be hosting their 12th Annual Charity Golf Tournament at Feather Sound Country Club in Clearwater, Florida.
Tenacity Guide Service is excited to donate a 6 hour Fishing Charter (a $600 value).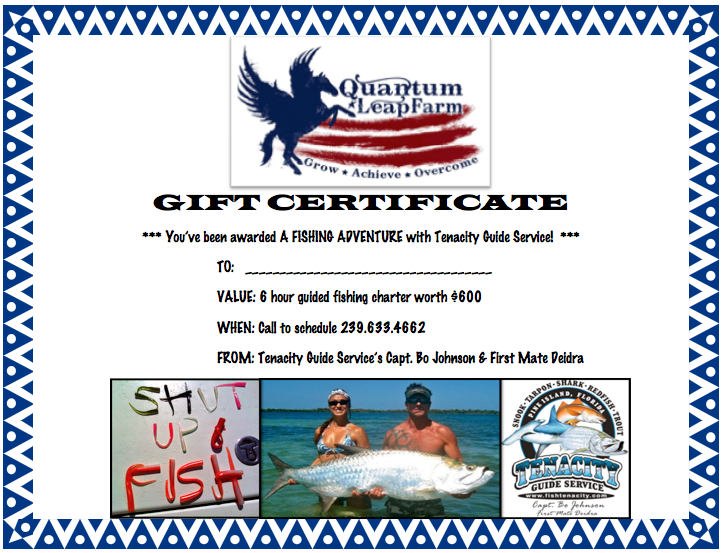 For event details, please visit: https://www.facebook.com/notes/quantum-leap-farm-inc/in-kind-items-12th-annual-qlf-charity-golf-tournament/10151322356504619
~ ABOUT ~
Quantum Leap Farm is a 501-(C)-3 Charity: a nonprofit community service organization providing therapeutic and recreational horseback riding, carriage driving, equine co-facilitated mental health services, and a variety of equine experiential learning programs.
Founded in 2000, is one of only a handful of equestrian programs nationwide serving disabled civilian adults, military servicemen, and their families.
***** In 2010, Quantum Leap Farm, Inc. received a Certificate of Appreciation from General Petraeus, Commander, U.S. Central Command, for their continuous work supporting veterans, soldiers, and their families. The commendation states, "On behalf of the men and women of United States Central Command, I wish to express my heartfelt appreciation to Quantum Leap Farm for the Warriors in Transition Workshops and Wounded Warrior Programs." The general is the commanding officer for U.S. and coalition forces operating in Iraq, Afghanistan, and the Central Asia theatre of operations. General Petraeus' commendation goes on to say, "These equine assisted therapy programs facilitate successful returns, reunions, and reintegration for service personnel and their families and therefore, are very much appreciated. *****